ÄÄNI SAUNA is an art and concert series conceived by Blank Blank and Oslo Badstuforening. The series explore alternative sounds from Finland, creating sensorial experiences with the heat of sauna.
ÄÄNI SAUNA #1
First up in the series is Jaakko Eino Kalevi, a Finnish multi-instrumentalist known for his analogue and electronic sounds. Combining folk, funk, and psych-rock into trippy experimental pop, Jaakko has woven his own style through a unique blend of the textural universe of analogue synths and experimental music.
Jaakko has over the years produced and released a number of EPs, albums and remixes on British Domino records as well on other labels like Beats in Space, Helmi (Finland) and his own label JEKS Viihde. For the first edition of ÄÄNI SAUNA, Jaakko will perform an outdoors live set specially created for Oslo Badstuforening, featuring Kari Kamrud (Farao, Ultraflex).
When: Friday 27th August 2021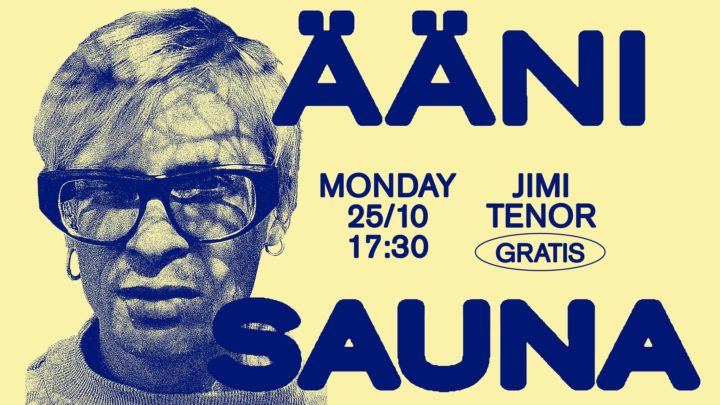 ÄÄNI SAUNA #2
For the second edition of ÄÄNI SAUNA, Jimi Tenor will perform an outdoors live set specially created for Oslo Badstuforening.
Musician and composer Jimi Tenor has never settled for the traditional role of a pop artist. Tenor has already built a reputation as a fascinating enigma in modern day music. Consistently one of the most inspired and unpredictable live artists around, his work since his breakthrough album 'Intervision' (Warp, 1997) had involved open-minded projects ranging from live film soundtracks and orchestral pieces to a series of Afro-based albums with his band Kabu Kabu and with the legendary Afro beat drummer Tony Allen.
When: Monday 25th October 2021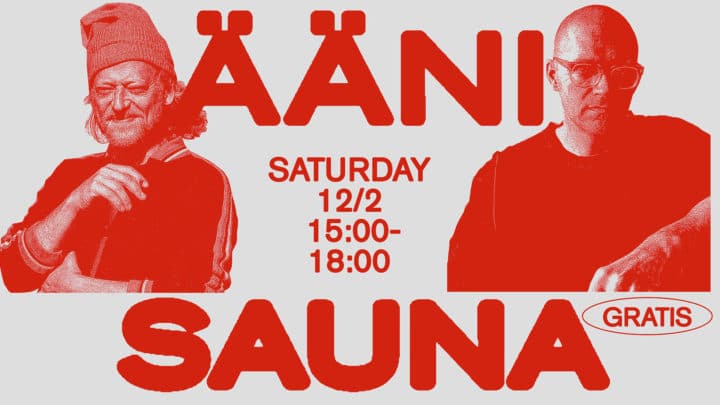 ÄÄNI SAUNA #3
For the third edition of ÄÄNI SAUNA, Tuomas Toivonen and Mikael Szafirowski have been invited to perform a combined three hour live set, separately and as a duo for the first time.
Tuomas Toivonen is an architect, musician and keeper of Kulttuurisauna, a public sauna in Helsinki. Mikael Szafirowski is a Finnish guitar player markedly working on expanding the vocabulary of amplified string instruments. The experimental sounds they create are improvised and imagined for the space around Oslo Badstuforening at Sukkerbiten.
The 'concert' will not have a specific stage and audience setting, rather a mobile and wireless installation setting the soundtrack for the whole area, the dock and for the people in motion passing by. The center of sound and attention will take place inside 'the dome' Oslo Fjord Hage, right next to the entrance of the saunas at Sukkerbiten.
When: Saturday 12th February 2022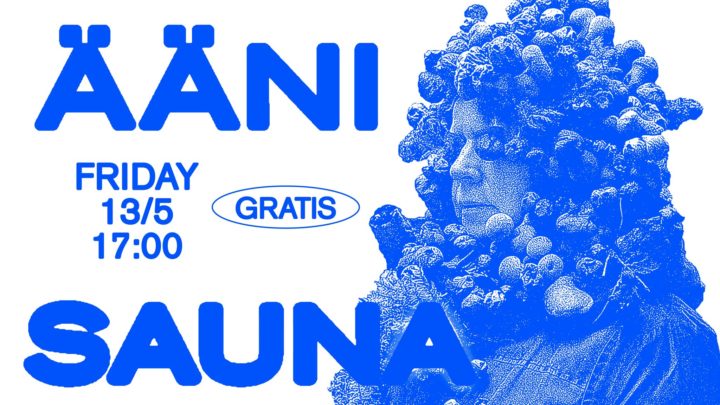 ÄÄNI SAUNA #4
The fourth edition of ÄÄNI SAUNA acts as a book launch for Eyes as Big as Plates 2 – a photographic project by Karoline Hjorth and Riitta Ikonen!
The ongoing photography series Eyes as Big as Plates started out in 2011 studying personifications of nature and folkloric explanations of natural phenomena. It has evolved into a continual search for modern human's belonging in nature, taking the Norwegian-Finnish artist duo Karoline Hjorth and Riitta Ikonen to five continents on a quest to understand our relationship with our surroundings. The second book in the series features new portraits produced in collaboration with retired wrestling coaches, pub patrons, Sami reindeer herders, Aboriginal uncles, kantele players, librarians, wild boar hunters, and surfers across four continents.
In celebration of the new book, there will be large photos on display, a reception with food and drinks as well as Finnish tango & jenka by Finn Trio. There will also be readings from the book and a possibility to buy your own copy.
When: Friday 13th May 2022 at 17:00
–
ÄÄNI SAUNA is supported by the Finnish-Norwegian Cultural Institute.