VADSØ MEGACITY is a social art project – a thought experiment explored by way of joint open workshops and an exhibition by filmmaker and community artist Miina Alajärvi, and filmmaker and visual artist Kirsikka Paakkinen. The project has been selected as the art project for this year's Varanger Festival in Vadsø.
VADSØ MEGACITY explores the near future and what Vadsø should be in 2050. It investigates a worrying trend in the neighbourhoods in the north by reversing the scenario of emigration to one of immigration. Beneath the surface, the project touches on themes such as identity, culture, tolerance, equality, reuse, and nature.
The project was selected through an open call in September 2022, launched in collaboration between the Vadsø Art Association, FINNO, the Varanger Festival, Vadsø guest studio, and the Artists' Association of Lapland. The call sought project proposals that address the relationship between art and culture, and a sustainable and viable regional society. The emphasis was on community-engaged art and cross-border collaboration.
The artist duo was selected from around 30 applicants. The duo was invited to a residency in Vadsø in January 2023 where they met the local population, migrants, the residents of Vadsø, young people, and the mayor to listen to them and co-create the project together.
Read an interview with the artists about their residency.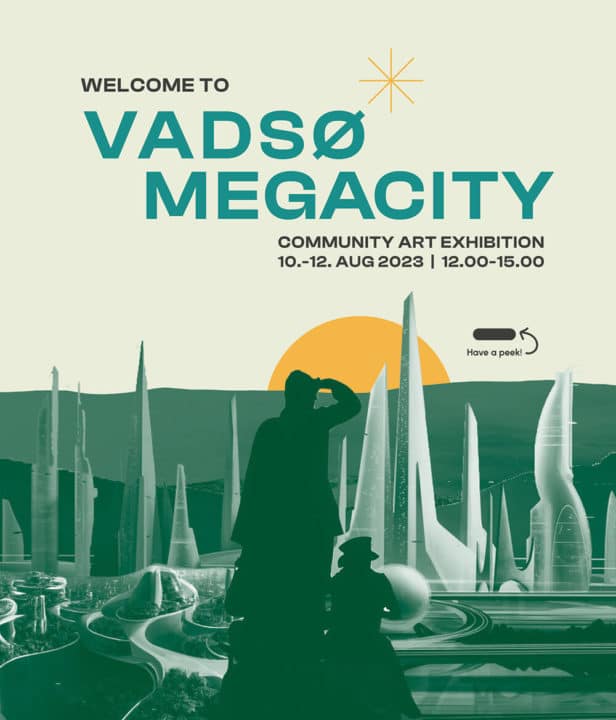 VADSØ MEGACITY opens on the 9th of August at 16:30 PM during the Varangerfestival.
Exhibition/Drop-in workshop Friday – Saturday 11.-12. August from 12:00-15:00 PM.
Images: Sunniva Tønsberg Gaski/ Vadsø Kunstforening. Poster: design av Snefokk.