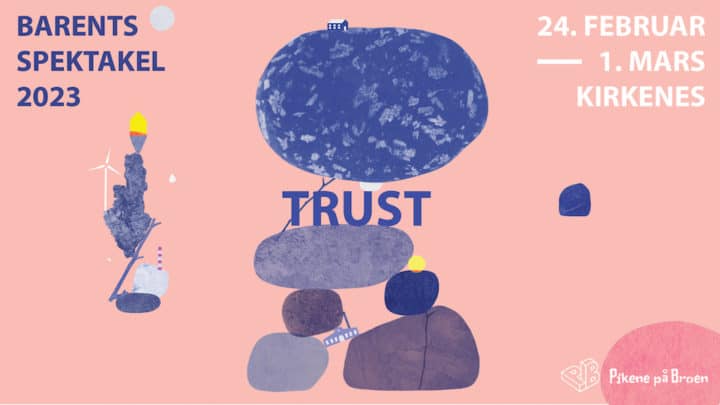 Barents Spektakel 2023 will include many contributors from the Finnish part of the Barents region, and through its different elements the festival will become a meeting place for everyone with an interest in the cultures and contemporary issues related to the High North.
The Barents Spektakel is an international festival consisting of contemporary art, theatre, music, debates, film, performances and a bar concept. The 19th edition of Barents Spektakel will take place 24. February – 1. March in Kirkenes. 
At the festival, you can experience works from several artists from the Barents region, including Finland and Sápmi-based contributors. The Festival organiser Pikene på Broen is working with the Helsinki based international theatre festival Baltic circle to co-curate the "From the Baltic to the Barents Sea" project. The project includes a guided bus tour Steer the way, Njâuddamon, led by the Sámi theatre and film director Pauliina Feodoroff as well as a performance from artist Pia Lindman in a 70-seater sauna in the village of Bugøynes.
There will also be a sauna audiobook experience, that is arranged as a collaboration between Pigeon-Gram Collective and Kirkenes's newly established sauna association. In addition, the shouting choir Mieskuoro Huutajat will offer the festival visitors a musical experience without singing a note, and the Lapland-Balkan band Jaakko Laitinen & Väärä raha will serve Balkan grooves, old Finnish tango and humppa 
Encouraging cross-border collaborations
The Finnish-Norwegian Cultural Institute (FINNO) is partnering with Pikene på Broen to bring a group of Finland-based cultural producers and art curators to Barents Spektakel. 
FINNO and Pikene på Broen have invited Riitta Kuusikko, Director at Rovaniemi Art Museum, Jonna Leppänen, Managing Director at Silence Festival, and Inka Hyvönen, Producer at Oulu 2026 to visit the festival and take part in Cultural Carousel. 
The Cultural Carousel is a new discussion format that shares experiences from artists, researchers and cultural workers from the Barents and Nordic regions. Contributors will each take on a rotating role to play interviewer, interviewee, and audience in an open conversation that shifts every 10 minutes.You can find more information about the collaboration on our project page Barents Spektakel 2023: Cultural Carousel 
Festival bus connections from Finland
To offer a chance to attend the festival in an easier and a climate-friendly way, Barents Spektakel will arrange a festival bus for visiting volunteers, audiences and journalists! The bus corresponds with the public bus to Ivalo, which makes it possible to connect from various destinations in Finland and Sweden. Today, there is no coherent public transport service between Finland and Kirkenes. The festival bus provides an opportunity to travel collectively and offers a slow journey through northern landscapes!
Barents Spektakel is organised by Pikene på Broen, a group of curators and producers based in Kirkenes, Norway.
Find the full festival program at the Barents Spektakel homepage.